It's our 5th year Anniversary and we're giving it all FREE!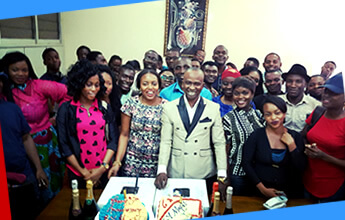 Lowest Fees in Nigeria, Free Lectures, Free 2017 GMAT Official Guide.
Get the hardcopy of the latest 2017 Edition of the The Official Guide for GMAT Review with Access to powerful lecture videos and online lectures that ensure success, for FREE, when you register for the GMAT before May 02, 2017. You do not need to pay any additional amount to the N60,000 you paid for your registration to get this. That's 100% off the actual price. Office pick up also available.
PASS THE GMAT IN NIGERIA, WITH JUST A FEW DAYS PREP! WE OFFER 5 FREEBIES FOR A PERFECT SCORE
1. 2017 updated edition of THE GMAT OFFICIAL GUIDE: Get the 2017 updated version of the Official Guide to the GMAT, with CD ROM free, once you register for the GMAT in Nigeria. You would not need to pay any extra amount to the N60,000 you paid for your test registration to get this. Office pick up is also available.
2. FREE GMAT Online Prep Course: The GMAT (Graduate Management Admissions Test) in Nigeria, has been broken down into modules to ensure that every one who registers through us and follows our "Game plan" passes the test excellently. Over the past couple of years, we have worked on a "holy grail" system that will ensure that busy professionals and people who do not have much study time, or time for lectures, have what it takes to pass the test, by dedicating about 1-3 hours a day, to our prep plan. This lectures are very intensive and are structures to match your pace
3. Get other softwares and E-books: Register for the GMAT in Nigeria before May 02, 2017, and get other hand picked materials as well.
4. Lowest Test Registration Fee: All our freebies will be given to you, when you pay the registration fee of just N60,000. The fee is subsidized only when you register before May 02, 2017, to celebrate our 5th year Anniversary.
5. FREE Counseling: Get the best counseling with regards to your test prep and study abroad options.
LOWEST GMAT FEES IN NIGERIA
GMAT Registration in Nigeria

N60,000


Special discounts apply during our promo at intervals. Call +2347063376716, +2347064878630, +2348116307744, +2348051535769 or click on the Register Now button to get your discounted fees, based on your location

Get the latest and 2017 updated edition of THE OFFICIAL GUIDE FOR GMAT, FREE if you register before May 02, 2017! This hardcopy material can also be picked up at our office (Hard copy)

In addition to the Official Guide, get "Cracking the GMAT", FREE! (E-book)

Get the Math Skills Needed to Ace the GMAT. FREE! (E-book)

Get the latest edition of the Kaplan GMAT Premier with 6 practice tests. FREE! (E-book)

Focus on the Math and Integrated Reasoning sections and all the in-betweens. FREE! (E-book)

Apart from the materials listed above get our Fool-Proof quick guide and crash program for the GMAT

(FREE if you register this month)

Admissions Counseling
FREE***
GMAT TEST DATES IN NIGERIA - LAGOS and ABUJA
The test is
only
available in Lagos and Abuja. However, you can register online from any state in Nigeria.
It's time to get Geared up!
Jumpstart your GMAT exam preparations with your must-have official study guide, featuring 15% new content and real GMAT questions—and answer explanations— written by the makers of the exam.
You will also get exclusive access to videos covering strategies & tips to help you prepare for exam day.
YOU HATE MATHEMATICS? WHO DOESN'T?
Well, we have met lots of people in your shoes. We have also met lots of people who have spent lots of money on lectures and preps and still can not crack the GMAT. What if you had the perfect plan that takes you from the very basics of the Mathematics skills needed for the GMAT without all the fuss or additional information, to the key strategies needed to pass the test? Well, you've got what you wished for and it's FREE, if you register for the GMAT anytime this month!
DO YOU HAVE JUST A MONTH (OR LESS) TO YOUR TEST?
Don't press the panic button just yet! We've got you covered.
ARE YOU A GMAT GURU?
From the entire GMAT crew here, we say
CONGRATULATIONS
. We hope you are a cash guru as well! Well, let's help you hone in on your skills for higher scores with our combination of different materials to help you succeed on the test.
Let's get social